Do you use LinkedIn to market your business? You Should Be!!
LinkedIn company pages help build brand awareness by providing a channel to promote your products and services to customers and prospects.
In this article, you will find out how to create a LinkedIn company page to promote your business and establish online credibility.
---
Benifits of Having a Company Linkedin Page
It showcases your company, not just one or two employees
Employees act as indirect company ambassadors
Tangibly measure the impact of your updates
Monitor and be notified when someone mentions your company or brand
Promote your latest, most important news
Showcase your specialist services
---
#1: Fill in Company Details for Your LinkedIn Company Page
To get started, go to Work at the top of your LinkedIn homepage and select Create a Company from the Pop-Up Menu.
Select the type of company page that you want to create
Populate the Fields Then choose Create company at the bottom of the page.
This is where you can type in an overview and detailed description of your company. Be sure to mention specialties, key products and services and include a sentence or two about what makes your company unique.
---
#2: Upload a Logo and Banner Image for Your LinkedIn Company Page
A LinkedIn company page is essentially a piece of real estate for your brand, so make the most of it. Upload your company logo and a banner image to make your page stand out.
Your logo is what LinkedIn users see when they search for your company. It also appears on staff profiles, so make sure that all of your employees add the company page to their profiles to reach a wider audience of LinkedIn users.
Next, create an eye-catching background image and feature key messaging on your page. You can choose from lots of great free graphic design tools to design a professional, branded banner image.
If you need some inspiration for your company banner image, here are a few suggestions:
Feature a key campaign line or brand message.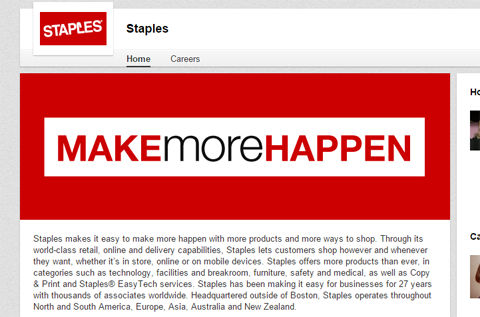 Welcome visitors to your page by throwing open the doors to your workplace.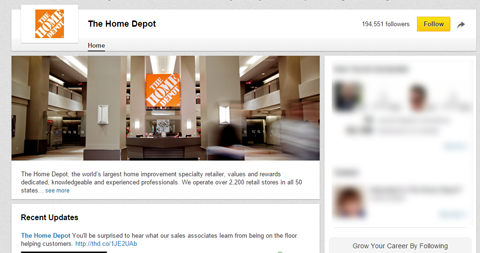 Feature a picture of a happy customer using your product.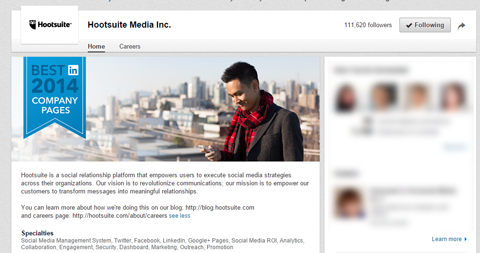 ---
#3: Post Company Updates From Your LinkedIn Company Page
Now it's time to create some quality content and plan a schedule of updates that your audience will find interesting and helpful.
Tailor Content to Your Audience's Needs and Interests
Think of your company page as a discussion forum rather than an advertising platform. While you can (and should) post company news, this isn't a direct sales channel. It's a place for industry talk and thought-leadership content.
Your key objective is engagement, so post helpful tips, advice and resources related to your industry. If you solve a problem for users, or make their jobs easier in some way, they'll be more likely to share your content with their peers.
Find the Best Times to Post
LinkedIn doesn't require the same level of activity as some of the other social channels, so don't overload your followers' feeds with updates from your company page. Post one update per week to start.
It's best to post on LinkedIn on weekdays during business hours. Tuesday, Wednesday and Thursday are the best days to post. The best times tend to be early in the morning between 7 and 8 am, and towards the end of the workday between 5 and 6 pm.
AddThis analyzed data from 14 million users and determined that content posted on Tuesday between 10 and 11 am gets the most clicks and shares on LinkedIn.
Keep in mind that you can save a lot of time by scheduling your updates in advance. There are a number of free tools you can use for scheduling, including Hootsuite and Buffer. Zinger Computing offers a complete integrated solution, for scheduled posts, social media reviews and responses, to content delivery. Ask us to centeralize your socail management.
---
#4: Promote Your LinkedIn Company Page to Attract Followers
Once you've created your new company page, there are several ways you can promote your page to gain new followers:
Mobilize the people in your office. Encourage employees to add the company to their personal profiles. This way, they'll receive company updates and be able to share them with the click of a button.
Add a link to your page in your email signature and promote your page in newsletters and blogs.
Add LinkedIn's Follow Company button to your website to encourage more followers.
---
Now you have all of the information you need to jump in and create a LinkedIn company page for your business.